In Memory
Audrey J Flaxington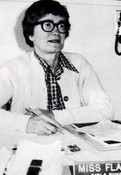 August 13, 1922 – February 13, 2009

Audrey Jane Flaxington, 86, of

7584 Airport Rd

, passed away Friday (February 13, 2009) at McAuley Manor, where she had been a resident since December. She was born on August 13, 1922 in Syracuse to Ward B and Cassandra ( Holland) Flaxington. She spent most of her growing up years in Hornell, where her father was pastor of the former Westminster Presbyterian Church on

Washington Street

. She attended Irving Elementary School and Hornell High School where was an active participant in the girls sports programs, graduating with the Class of 1941. She furthered her education at SUNY Cortland where she earned her Bachelors degree in 1946 in Physical Education. Audrey earned her Masters degree in the same discipline at New York University. She taught girls Physical Education at Newark, NY, Goshen, NY and then in Oakland and San LeandroCA for many years. Audrey returned to the roots in Hornell in 2005. Travel was one of her greatest interests and she went to Europe and England several times, living for 2 years with a family in Sweden. An article in the Hornell Evening Tribune told of her adventures, riding a motor bike all over these lands. Opera was also a great loved and she attended or listened to them whenever possible. (The Metropolitan being her favorite)

She was a lifelong Presbyterian and avid Republican. She was predeceased by her parents and 3 sisters Jean King, Marilyn Myers, and Beverly Smerek. Surviving are nieces and nephews, her caregiver Barbara Makeley of Hornell, classmate and good friend Ellen Hardy of Almond, and friend and helper Shirley Jackett of Hornell.

A graveside service will be held on (Tuesday) at 1:00pm at the Hornell Hope Cemetery in the Presbyterian section next to her parents, with the Rev. Steve Dygert officiating.

Funeral arrangements entrusted to the Robertson Funeral Home of Hornell.