In Memory
Evelyn MacNair - Class Of 1969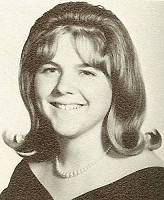 The Life and Times of Evelyn MacNair
When Evelyn was fourteen, her family moved to San Leandro where her father was a pastor. Later that year she sang her first solo and began touring each summer with the Bay Area's Youth of America, traveling to the East Coast and Canada. She played Marian in Pacific High's "The Music Man," then Yum Yum in "Mikado." At the University of Redlands in southern California, she sang in the select Chapel Singers. After graduation, she married Stan McNeil, and worked as a teacher's aide to support him as he finished his studies. Three years later she left Stan and returned to school to get her teaching certificate and a Masters in Special Ed. at Cal State Hayward.
In 1979 she met me and we were married in 1982. Most of the time we lived in San Lorenzo and San Leandro and Evelyn worked in a number of schools in the Bay Area teaching the educationally challenged. Then she set up her own consulting business to diagnose student learning problems and help parents and schools find solutions.
Health had often been a problem, although I don't think many people knew about this aspect of her life. When she was fourteen, Ev suffered her first gall bladder attack, a problem that wouldn't be correctly diagnosed for fifteen years. In 1989, she was diagnosed with Candida and had to spend a year in bed recovering. As her energy came back, she began tutoring students and returned to the theater. In 2000, Ev began experiencing pain in her upper abdominal region that was thought to involve her pancreas. In April 2001, Ev suffered a surprise heart attack and died. She was 49 years old and had no history of heart problems. It may be that doctors misdiagnosed her situation because women exhibit different symptoms than men during heart attacks, and in 2001 this wasn't widely known.
In the latter years she sang and danced most often with Oakland's California Revels and with Piedmont's Light Opera Company. When she died she was rehearsing a play called Quilters for the Altarena Playhouse in Alameda. As per her wishes, Evelyn's organs were donated and transplanted into four women in the Bay Area. Memorial gifts were sent to organizations that helped children, AIDS organizations, and abandoned animals.
At Ev's memorial service, Barbara (Boggs) Nixon summed Evelyn up as well as anyone has:
"Being with Evelyn was like opening a music box. Sometimes she was an aria from a Puccini opera—an exquisite, sometimes pain-filled melody of loss or longing, of passion and struggle, of love or grief. Ev could not hide her feelings, at least not for long. Then the honest, soaring melody lines of her life-—her arias—would break through and hang in the air in utter vulnerability, especially when life seemed truly unfair or complicated beyond solution. Evelyn's arias gave voice to feelings we all have and so often hide. From very early age, my children knew that if Ev were coming over, there would be laughter and silliness.
Evelyn's life music was full of grace notes—those surprising, sweet little notes that make melodies so rich and beautiful. And like a grace note, she was here and she is gone. I ask myself, what am I do to in this silence? It feels as if the concert of her life is left unfinished. I am not able to make any easy peace with her death. But I am reminded of a song, written by Natalie Sleeth, which begins "There's a song in every silence." We who have loved Evelyn must accept a moment's silence, then begin to listen for her new song to rise within us."
Evelyn loved music, Yosemite, and our cats. Some of her ashes now rest in Perthshire, Scotland, the land of her ancestors, in a place of streams and ancient Celtic crosses. If you have a favorite story you'd like to share, I'd love to hear it. And if there is something you want to know, please contact me.
Mark Liebenow
muirman1@sbcglobal.net