In Memory
Tom Gunnari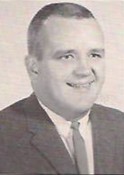 Mr. Gunnari died in 1984 after a long and courageous bout with cancer.
"Tom was the head varsity football coach at Pacific from the day the school opened until it closed in June, 1983. He had been specifically recruited to develop the athletic program. Keeping with his Norwegian heritage, he selected the "Vikings" as our mascot.
Tom had a great sense of humor and really enjoyed socializing with the other teachers & staff. He always arranged and orchestrated the end-of-the-year faculty parties where he would present the "Ensign Pulver Award" to that employee whom he and his committee deemed had accomplished the least during the just completed school year. Everyone dreaded being selected, but they all enjoyed and had a good laugh at Tom's elaborate presentation. Even though Tom became increasingly ill during the 1983-84 school year, he still put on the faculty party at San Leandro High, where he finished out his career, just two months before his death.
In addition to being a highly respected coach and athletic director, Tom was also an excellent teacher. As student enrollment declined in Pacific's final years and the faculty became smaller and smaller, he stepped forward to teach both math and wood shop. Tom Gunnari loved Pacific High School and its students."
Bob Stammerjohan
3-16-2012