In Memory
Richard Ione - Class Of 1969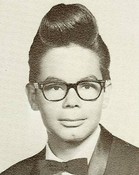 Richard P. Ione, Sr., 66, of San Leandro, California, passed away on Friday, November 3rd, 2017, at St. Rose Hospital in Hayward, California.
Richard is survived and will be forever missed by his wife and best friend, whom he deeply and passionately loved, Gloria Ione. He was a truly loving, caring and devoted father to his children, Bernadette and Richard Ione, Jr., and changed his whole life for his precious and treasured only grandchild, Raymond Ione, all of San Leandro. Richard also leaves behind his sisters, Rosemary Francis, of Milpitas, and Bonnie Tobin, of Riverbank, and his nephews and nieces.
Richard was born in Seward, Alaska, on May 18th, 1951, the youngest of three children, to the late Richard and Helga (Zimmerman) Ione. He was of Inupiaq and German descent. He and his family were relocated to Seattle, Washington, due to his poor health, which he would be later correctly diagnosed as having McArdle's Disease, when he was eight-years old. Shortly after, the family moved to Oakland, California, where they lived for a few years. They then planted deep roots in San Leandro, California, at the Marina, on Barrow Street.
Richard attended Garfield Elementary School, then John Muir Junior High School. This is where he met his wife-to-be, Gloria. They both attended Pacific High School, when they began dating, and graduated in 1969. He also attended Laney and Chabot Colleges.
Richard and Gloria were happily married on June 3rd, 1970, through a Hayward courtroom Justice of the Peace. They were later united in Holy Matrimony at St. Leander's Catholic Church on June 3rd, 2004, where they were active parishioners. Gloria was his caretaker for over the past decade as his body rapidly gave in to McArdle's Disease, causing him to have severe physical discomfort and disabilities. Richard was definitely a man of nine lives.
Richard was a Teamster in Local 70 out of Oakland, California. There he started off as a lumper and moved his way to truck driver. He worked for major companies such as Yellow Freight, Consolidated Freight and Young's Market. He was also an auto mechanic whose amazing skills shone at George Oren, Kmart, then finally on his own as a side business.
Richard loved spending time with his family. He would take them camping every summer at Pismo Beach, cooking whole meals on campfires and collecting sand dollars and sea shells on the beach. He loved fishing! He often played tourist with them in San Francisco, taking them to the aquarium, museum and zoo, the San Jose Flea Market and lately in Monterey. He enjoyed reading, especially the Hannibal Lector books and Stephan King novels. He loved music, always playing The Rolling Stones, the Beatles, WAR, Creedance Clearwater Revival, Sade and many, many more.
Richard's life will be celebrated on Tuesday, November 21st, 2017, at 10 AM. The Funeral Mass will be held at St. Leander Catholic Church, with the Rosary preceding.
Immediately following the funeral will be the burial at Holy Sepulcher Cemetery.
St. Leander Catholic Church
474 W Estudillo Avenue
San Leandro, CA 94577
Holy Sepulcher Cemetery
26320 Mission Boulevard
Hayward, CA 94544