In Memory
Marilyn Uribe - Class Of 1966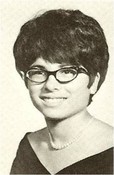 Deceased Classmate: Marilyn Uribe Cueba 1966
Date Of Birth: Oct-17-`66
Date Deceased: April-27-2016
Age at Death: 67
Cause of Death: Complications from diabetes
Classmate City: San Jose
Classmate State: CA
Classmate Country: USA
Was a Veteran: No
Survived By: Ron Cueba (husband) Teresa Cueba Dionne (daughter) Ray Cueba (son) Five grandsons.

On April 27, 2016 Marilyn Cueba died at home with her family by her side. She was 67 years old. In the summer of 2005 it was discovered that she had polycythemia vera, a blood disease that affects the red blood cells. The polycythemia caused her to have a major stroke in July 2005. She was paralyzed on her right side and was confined to a wheelchair. In addition she suffered from aphasia. While she was able to travel we took three trips to Hawaii, many trips to Los Angels, trips to Yosemite, Las Vegas, Reno, Tahoe, and Napa. Her favorite place to visit was Yosemite. We went with the Ron Wilske family and stayed at Camp Curry. On the way home we would stop to eat and that is when Marilyn presented her awards for the trip. She called them "The Yosees." She was always creative and very thoughtful. She loved to go to the movies and we went twice a week for many years. As her diseases progressed she began to slow down. In late March of this year she developed gangrene in her toes. She entered the care of Optimal Hospice Care. She was in great pain, but with the use of morphine and other drugs the pain was somewhat controlled. Marilyn receive care by our friend and live in housekeeper Emely Bejarano. As the end drew near her children, Ray and Teresa were by their mother's side much of the time. Marilyn and I were married for 44 years. We met at Pacific H.S. in San Leandro. We had two children, Teresa and Ray, and we had five grandsons, Joe Ford, Caleb Cueba, Finn Dionne, Kellan Dionne, and Julian Dionne. Marilyn lived in the Bonaire area of San Leandro. She attended Madison Elementary and John Muir Junior High Schools. She graduate from Pacific High School in San Leandro, and was in the top 10% of her class. She earned a BS degree in Early Childhood Education from Cal State Hayward. Marilyn worked at the Child Care Center at Mt. Pleasant H.S. in San Jose. She quit to raise her children. She returned to education to work with her husband at W.C. Overfelt H.S. in San Jose. She made a habit of remembering her students birthdays with small gifts.