In Memory
James Long - Class Of 1966 VIEW PROFILE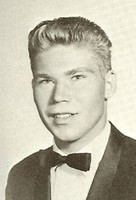 James E. Long, Jr. died on December 2, 2008 at age 60 in Gerber, California.
Jim was born in Oakland, California and graduated from Pacific High School in San Leandro, California in 1966. He served in the Air Force for 6 1/2 years. During his tour of duty, he was stationed in Alaska and at March AFB in Southern California. Following his military career, Jim embarked on a new career as a Maintenance Splicer with Pacific Bell; he retired in 1996. It was during his career with Pacific Bell that he met the love of his life, Jean Bradley and her daughter Cristina.
Jim loved gardening and dreamt of moving to the country and becoming a farmer. He realized that dream when he and Jeannie moved to Gerber to live on an 18 acre spread where he raised cattle, chickens, owned horses and a donkey. Jim attended Shasta College and in 2004 became a Certified Master Gardener.
Jim held a variety of positions after his retirement; most recently he worked for Northstar posting electronic records on a CAD system.
Jim loved people, he was a friend to many, and never met a stranger. He will be sorely missed.
Jim is survived by his Fiancé, Jean Bradley and daughter Cristina of Norco, California, his father, James Long, Sr. of Gerber, sisters Joyce Sharpe (Pat) of Brentwood, California, Janice Long of Gerber, Jill Maughan (Phil) of San Lorenzo, California, in addition to three nieces: Amie Roberts (Chris), Rhonda Whent (Dan), Wendy Sharpe, and four grand-nieces: Sophia, Sabreena and Calista Roberts, and Hannah Whent. In addition, Jim leaves behind many friends who loved him and will miss him. He was preceded in death by his mother Alberta and his son James.
A Memorial Service in remembrance of Jim will be held on Saturday, December 13, at 1 p.m. at El Camino United Methodist Church, 8345 Hwy 99W, Gerber, California. Luncheon to follow at church.
Click here to see James' last Profile entry.