In Memory
Michael Crom - Class Of 1966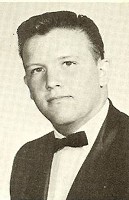 Michael Keith Crom
(Big Mike)
1/29/1948 - 9/27/2010
Michael Keith Crom passed early Monday morning in his sleep after a year long battle with cancer at home. He was only 62.
He is survived by his wife, Leona K. Crom; son, Hunter J. Crom U.S. Marine; daughter, Heather R. Crom; brother, Pat and wife Bonnie Crom; sister, Kay Dennison and husband, Tim; best friends, Bob Ridenhour and Steve Goeforth; and so many other family and friends to honor, we appreciate all our wonderful people in Mike's life. Mike was proceeded in death by his mom, Donna Beth Mosier; dad, Verlyn D. Crom; brother, Dick Mckenzie; first wife, Gayle Crom; baby son Clayton Crom; and Aunt Bev Campbell.
"Mike, we will miss your jokes and loving heart and love of sports."
In Lieu of flowers please donate to Roseville High School scholarship fund in his name or to the
Cancer Society
.
Rememberance will be held Sunday, October 3, 2010 12 to 4 p.m. at the families request, Sierra View Country Club 105 Alta Vista Ave., Roseville, CA 95678 916-782-3741 ex 28. If you have any stories or pictures you would like to share please come. Any questions please call Leona at home 916-783-8538 or cell 916-521-1169.
Published in Gold Country Media Newspapers on October 2, 2010