In Memory
John Castro Jr - Class Of 1966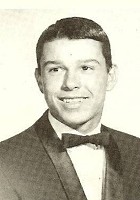 Deceased Classmate: John Castro Jr (1966)
Date Deceased: 1997
Age at Death: 49
Cause of Death: robbed/shot and killed
Classmate City: Reno
Classmate State: NV
Classmate Country: USA
Survived By: SISTER LAVERNE,BROTHERS ANTHONY AND RONALD

JOHN WAS A VIETNAM VET SERVED ABOUT 1967 U.S. ARMY ARTILLERY LOVED EVERY IF HE DIDNT KNOW THEM THEY WOULD BECOME HIS FRIEND JOHN HAD A BIG HEART. LOVED TO FISH AND BARBECUE ALONG WITH A COLD ONE. LOVED BASEBALL AND FOOTBALL. COMMENT ITS VERY SAID THAT JOHN SERVIVED VIETNAM ONLY TO COME HOME AND BE KILLED BY ONE OF OUR OWN. WE WILL SEE HIM AGAIN SOMEDAY.