In Memory
Linda Nevins Henderson - Class Of 1965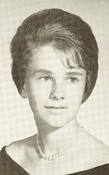 Linda Kay Henderson
Nov 29, 1947 - Jun 20, 2013
Resident of Hayward
Linda passed away peacefully with her twin sons by her side in Hayward, CA at the age of 65 after a 16 month struggle with ovarian cancer.
Linda was born to Joseph and Clarice Nevins in Little Rock, AR and moved with her family to San Leandro in 1954. She graduated from Pacific High School in 1965 and moved to Hayward in 1973. She worked as a Secretary and Programs Assistant for over 33 years at the Alameda County Office of Education where she was both a friend and mentor to her co-workers.
Linda was a devoted daughter, sister, mother, grandmother and friend. She will be deeply missed by all whose lives she touched in her lifetime. She was preceded in death by her brother Larry Nevins, and her beloved dog, Lager. She is survived by her sons, Michael and Robert, her daughter-in-law Sinh Sinh, two grandchildren, Macie and Maxwell, and her dear friends Patricia and Bob Cabral of Modesto.
Family and friends are invited to a Celebration of Life on Saturday, July 13 at 10:00 AM aboard the "Commodore" at 2394 Mariner Square Drive, Alameda, CA. Memorial donations in Linda's memory can be made to the American Cancer Society at https://donate.cancer.org/index or to the charity of your choice .


Published in Inside Bay Area on June 29, 2013