In Memory
Robert Anderson - Class Of 1965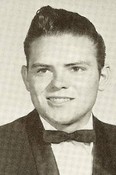 Deceased Classmate: Robert Anderson (1965)
Date Of Birth: 8-26-1947
Date Deceased: 9-25-1991
Age at Death: 44
Cause of Death: heart attack
Classmate City: union city
Classmate State: CA
Classmate Country: USA
Survived By: His wife Andrea Anderson, Daughters Jennifer Delatorre,Jodi Anderson Son Bobby Anderson, Sister Debbie Albini Brother Ron Anderson Many grandchildren

Robert was a loving husband and father!! He was a purple heart veteran of Viet Nam~~~He worked for then Oakland Scavenger a member of Local 70. He had a massive heart attack while on the job!!! He is laid to rest at in Hayward Calif. He is greatly missed!!!