In Memory
Vic Soares - Class Of 1963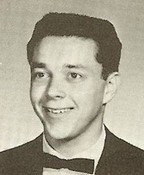 Vic Soares, Class of 1963, passed away this past Mothers day, May 9. Services will be held on Friday May 21, 10:00 a.m., St Leanders church in San Leandro.

Vic was a gret guy and a phenomenal baseball player.
Victor John Soares
Resident of San Leandro
Aug. 10, 1945 – May 9, 2010

Vic John Soares passed away on May 9th due to multiple health complications. He is remembered as a loving father, grandfather, and friend to the many that knew him.
Vic was born in Oakland, CA, graduated from Pacific High School in San Leandro and continued studies at Cal State Hayward before joining the U.S. Armed Forces. He was enlisted in the Army in 1968 and stationed at a Hercules missile base in Germany, during which time he married Marilyn Louise Souza of San Leandro. Vic enjoyed operating his auto parts business in Oakland over the course of three decades and found relaxation in baseball, the study of history, and listening to his music collection.
Vic is survived by his former wife Marilyn of Diablo, CA; his son Scott, daughter-in-law Ula, and two grandchildren, Paulo and Vinny of San Ramon, CA. He is also survived by his beloved sister Joyce and brother Richard. Vic will be missed, though his spirit is celebrated.
Friends and family are invited to attend funeral services at Saint Leander Catholic Church at 555 W. Estudillo Avenue in San Leandro – Friday, May 21st at 10:30am.
Arrangements under the direction of Guerrero Mortuary Chapel, San Leandro, CA.