In Memory
John Salsedo - Class Of 1967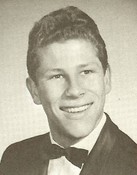 John Alan Salsedo
Sept 21, 1949-Nov 30, 2012
Resident of San Leandro
Born September 21, 1949, in San Leandro, made his journey home Friday, November 30, 2012, at the age of 63, surrounded by his devoted family. A beloved husband, father, grandfather and friend, John is survived by his loving wife of 43 years, Susan, fondly referred to as "my Susie;" three daughters: Cindy Hooks, Michelle Claiborne and Angela Pokorny; his sons-in-law; seven grandchildren; his loving mother Josephine; a brother David Salsedo and his wife Deenie; many aunts, uncles, nieces, nephews, cousins and friends, and his precious puppy Lucy. John is preceded in death by his father, Dominic Salsedo. John was employed with NUMI for 15 years. He was an avid Raider fan who also enjoyed hunting, fishing, Sunday football, entertaining and traveling with the "brunch bunch." His loud, booming voice but gentle-loving spirit will forever be in our hearts. A celebration of life will be held at 10:30 a.m., Thursday, December 6, at St. Leander's Catholic Church, San Leandro. In lieu of flowers, we ask that you make a donation to St. Jude's.