In Memory
Lawrence Hand - Class Of 1967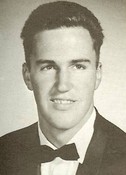 It is with a heavy heart that I announce the death of Larry Hand (Class of 67).He died yesterday July 27, 2015. He was an all around great guy !! He will be missed by all that knew him. Rest in Peace my friend..
Larry's Obituary....
Larry Hand
Larry Hand, age 66 passed away suddenly on July 27, 2015. Larry was doing what he loved which was riding his motorcycle with his friends. Larry was born in Oakland, CA to the late Clifford and Betty Hand of San Leandro. Larry graduated from Paci c High School in 1967. He was drafted into the United States Army in August of 1968. He was deployed to Vietnam where he worked as a radio repair man until August of 1970. He quickly started his career in the Sheet Metal trade in 1970. He retired as a Superintendant after serving 40+ years with the Sheet Metal Union, Local 104.
Larry enjoyed riding his motorcycle, going on long road trips in his Jeep, taking exotic cruises all over the world, shing in Alaska and camping in Shasta County. But what he enjoyed most was meeting new people and making them laugh. He never turned anyone down who needed his help. Whether it was working on someone's house or giving career or life counseling, Larry was always there to help.
Larry married his high school sweetheart, Lynna "Jane" Hand on August 8, 1969 while on a military leave. He and his wife bought a house in San Leandro in 1973 and remained there during their 46 years of marriage. He made numerous improvements to the house over the years, with the help of his many close friends and family.
Larry is survived by his wife of 46 years, Lynna "Jane" Hand and their two children, Lisa Erwin (Jed Gibson), Lester Hand (Jennifer), two grandchildren, Marissa Hand and Keira Hand. His brother William "Bill" Hand (Vicki) of Pleasanton, sister Nancy Hand Branco (John) of Vacaville and many nieces, nephews, cousins, aunts and uncles. He will be missed by all who knew him and loved him.
A Celebration of Life will be held Sunday August 30, 2015 at the Veteran's Memorial Building, 1105 Bancroft Ave., San Leandro, CA at 1:00pm. In lieu of !owers, donations in his memory may be made to a charity of your choice.
Dec. 24, 1948 – July 27, 2015 Resident of San Leandro, CA