In Memory
Edward De Oliveira - Class Of 1967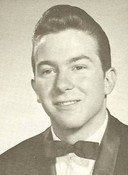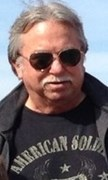 Edward Craig DeOliveira
July 6, 1949 to July 16, 2013
Resident of San Ramon
Edward Craig DeOliveira, 64 of San Ramon, passed away on Tuesday, July 16, 2013, in his sleep. His final days were spent with his family and best friend Ron Hiller, he touched the lives of many through his lifetime.

Ed was a "steak and potato" man who loved the outdoors and enjoyed a simple life. He took no fashion cues, his signature outfit consisted of shorts, t-shirts and a black jacket with aviator sunglasses. It didn't matter if it was cold or hot outside. Ed was a constant fixture at his son's store, Diablo Flooring, Inc in Danville. He was a sweet and loving man yet strong and highly opinionated when it came to religion, politics and life in general. He was always there to help friends and family with projects, or whatever else they needed him for.

Ed was born in Oakland, California on July 6, 1949. He graduated from Pacific High School in San Leandro in 1967 when he joined the Naval Air and was stationed in Guam until 1969. Ed returned to California and joined the Albany Fire Department from 1971-1979 when he resigned. He got his Real Estate license while a Fireman and after his resignation he went on to became a Real Estate Broker for the next 35 years.
Ed is survived by his daughter, Dyan Foust of Camp Connell, his son and daughter-in-law, Brian and Aurora DeOliveira of San Ramon; 5 grandchildren, Skylar, Hunter, Ryder Foust; Portia and Enzo DeOliveira; his 3 siblings, Claire, Dorothy and Troy DeOliveira, as well as his nieces, nephews and other friends. He was predeceased by his brother Gary DeOliveira and his parents, Clarence and Dorothy Holm DeOliveira.

A private military service will be held for him.

Published in East Bay Times on July 21, 2013 - See more at: http://www.legacy.com/obituaries/eastbaytimes/obituary.aspx?n=Edward-Craig-DeOliveira&pid=165926963#sthash.0CSCr8ak.dpuf