In Memory
David Kenney - Class Of 1970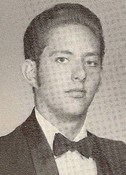 Born 9-2-1952 Died 8-18-1996 in Yountville CA
David Kinney joined the army in 1972 and became a
pharmacist technician. While in the army he developed a
brain tumor, but was operated on and thought to be in good
shape.

After he got out of the army he pursued his dream of being
a pharmacist, but the tumor returned. Dave died in a VA
hospital in 1996.

info provided by John Pursley on 9-13-10