In Memory
Michael Whitacre - Class Of 1974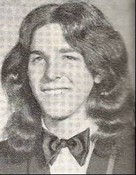 Michael Whitacre
Dec. 21, 1955 - March 1, 2015
White, GA
Michael Kenneth Whitacre, 59, died on March 1st, 2015 at his home in White, GA.
Mike was born on December 21st, 1955 in Alameda, CA to Melvin and Barbara "Bobbie" Whitacre. He graduated from Pacific High School in 1974 and soon after went to work as a guitar tech for Eddie Money. He also worked as a truck driver and most recently worked as a line engineer at Anheuser-Busch in Cartersville, GA. He was the lead singer of the Lucas Michael's Band for many years playing all around the Bay Area. He was an incredible musician and singer. Performing was his passion.
In his most recent years, he loved restoring old guitars, watching Nascar racing, and he found a love for watching the weather. His best times were spent with his adoring wife, children and grandchildren. He had a fantastic sense of humor and cared deeply for those around him.
Mike is survived by his loving wife, Darvi Whitacre, his mother, Barbara "Bobbie" Whitacre, his brother, Rick Whitacre, his daughter, Sara Whitacre and his step-sons, Adam, Kenny and John Billot.
Published in Inside Bay Area on Mar. 5, 2015
- See more at: http://www.legacy.com/obituaries/insidebayarea/obituary.aspx?n=Michael-Whitacre&pid=174311525#sthash.CNp8cmtF.dpuf