In Memory
Stephen Nunley - Class Of 1971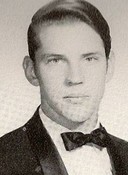 Deceased Classmate: Stephen Nunley (1971)
Date Deceased: Jan-17-2009
Age at Death: 56
Cause of Death: Cancer
Classmate City: San Leandro
Classmate State: CA
Classmate Country: USA
Survived By: His sister Maureen Nunley Branco, brother in law Barry Branco, and brother Bruce Nunley

No one sounded more like Neil Young than Steve - he could sit with his guitar for hours playing and singing without repeating a song. Steve was the best man in my wedding (to Sue Sotelo, class of 71) and godfather to our daughter. We became friends while we were on the Pacific High track team - he was a great pole vaulter. Through the years we had many adventures including climbing Half Dome in Yosemite and skydiving! Steve was a carpenter by trade, a musician at heart and boy did he love fireworks (that was his true avocation).