In Memory
Dean Hubbard - Class Of 1971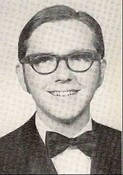 Dean W. Hubbard
July 21, 1953 - March 11, 2018
Dean William Hubbard died unexpectedly and peacefully in Oakland, CA, on March 11, 2018, at the age of 64.

Dean is survived by his wife, Constance, sister, Diane Lewis (Bud Lewis) and their children Charlotte Lewis (Bryan Newbold) and Emily Lacroix (Matthew Lacroix) and great niece Louise Lacroix, and many beloved godchildren, nieces and nephews.

Dean graduated from Pacific High School in San Leandro in 1971. He married his dear wife Connie in 1980 and they remained life-long Oakland residents.

A professional trombonist for more than 50 years, Dean contributed to a gold and platinum album, was a member of the SF Musicians Union, a mentor to countless young musicians, and a member of several performance groups. Dean was a beloved pillar of the Bohemian Club for more than 37 years, generously sharing his irreplaceable humor, virtuosity, and wisdom. He sponsored many musicians for membership and was a shining example of brotherly love to all who knew him.

More than his professional accolades, Dean was a devoted friend and family man. He was a godparent and Catholic sponsor to many, and he will be remembered for his ability to lighten the mood with a clever joke, making all feel welcome and valuable.

A private Catholic Mass will be held for family. In lieu of flowers, the family requests donations to Holy Names High School in Oakland, Connie's alma mater, where she is school President, and where Dean was a volunteer music teacher.
Published in San Francisco Chronicle on Mar. 18, 2018