In Memory
Dan Nelson - Class Of 1970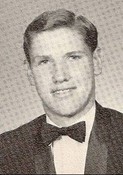 Daniel Nelson

Oct. 8, 1952 - April 30, 2008 Resident of Pleasanton Passed away at
home on April 30, 2008 at the age of 55. Born on Oct. 8, 1952 to Roy
and Katherine, Daniel grew up in San Leandro and graduated from
Pacific High School in 1970 and Cal State Hayward in 1974. He taught
math at San Leandro High School for 30 years. Daniel is survived by
his loving wife of 25 years, Diane, the "lights of his life",
children Colleen and Patrick, father Roy, brother Michael (Marilyn),
brothers-in-law David (Renate) and Paul (Joyce), mother-in-law
Norene, and aunts, cousins, nieces, and a nephew. His mother Katie
preceded him in death in 2006. Daniel enjoyed watching his children
play PGSL softball and Amador basketball. An avid Raiders and
Warriors fan. Donations may be made to the San Leandro Scholarship
Foundation (include "In Memory of Daniel Nelson" on the memo line),
PO Box 1151, San Leandro, CA 94577. A memorial service will be held
on Saturday, May 10, 2008 at 11:00 am at Christ Presbyterian Church,
890 Fargo Ave., San Leandro, CA 94579.

Published in the Bay Area News Group publication from 5/8/2008 - 5/9/2008.